"Buenas Noches y Buena Suerte" tiene lugar durante los primeros días del periodismo en Estados Unidos, en la década del cincuenta. La película pone en escena un conflicto de la vida real: el que enfrentó al pionero de las noticias en televisión Edward R. Murrow (David Strathairn) con el Senador Joseph McCarthy y el Comité de Actividades Antiamericanas.

Con el firme propósito de comunicar los hechos y mantener informado al público, el emprendedor Murrow y su dedicado equipo (encabezado por su productor Fred Friendly/ George Clooney y Joe Wershba/ Robert Downey Jr. en la sala de noticias de la CBS) desafiarán las presiones corporativas y económicas para poder examinar las mentiras y tácticas alarmistas perpetradas por McCarthy durante su "caza de brujas" anticomunista.

Un verdadero enfrentamiento público estalla cuando el Senador responde con acusaciones políticas. En este clima de tensión y represalia, el equipo de la CBS continúa indiferente y su tenacidad obtiene sus resultados cuando McCarthy es llevado delante del Senado y queda tan impotente como sus mentiras al ser descubiertas sus tácticas siniestras.

Aún así, Murrow y su equipo habrán pagado un alto precio por su valentía.

Su legado, sin embargo, permanece intacto y señala el camino para lo mejor del periodismo contemporáneo.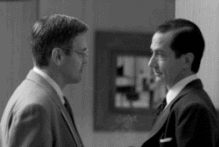 "Buenas Noches y Buena Suerte" fue escrita por George Clooney y Grant Heslov y dirigida por George Clooney. Producida por Grant Heslov, los productores ejecutivos fueron Steven Soderbergh, Ben Cosgrove, Jennifer Fox, Todd Wagner, Mark Cuban, Marc Butan y Jeff Skoll.


Sinopsis

El año es 1953. La televisión está todavía en pañales y el pionero del periodismo Edward R. Murrow (DAVID STRATHAIRN) crea el popular show documental de noticias "See it Now" en la CBS. Murrow, acompañado por su productor Fred Friendly (GEORGE CLOONEY) ha diseñado un show que trata las principales noticias del día. También es el anfitrión del talk show "Person to Person".
Todavía, "la cara de la televisión" es feliz como periodista de actualidad...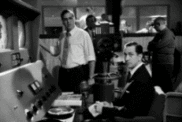 La sala de noticias de la CBS es un hervidero de actividad, con secretarias tipeando a toda hora, agentes de prensa telegrafiando sin cesar y el bullicioso equipo de cámaras. Murrow tiene un dedicado grupo de periodistas que incluye a Don Hewitt (GRANT HESLOV), Joe Wershba (ROBERT DOWNEY JR.), Palmer Williams (TOM MCCARTHY), Jesse Zousmer (TATE DONOVAN), John Aaron (REED DIAMOND), Charlie Mack (ROBERT JOHN BURKE) y Eddie Scott (MATT ROSS). Todos estos hombres se convertirán en leyendas del periodismo pero, por ahora, sus carreras están recién comenzando. Se reúnen habitualmente para poner en pantalla los variados tópicos diarios y discutir potenciales historias.

Una de esas historias es la de un piloto de la armada, Milo Radulovich, que había sido echado a patadas de la armada por ser en un "riesgo para la seguridad". Declarado culpable sin pruebas razonables, fue invitado a denunciar a su padre y hermana por mantenerse en su posición y rehusó. Todos los cargos en su contra fueron confirmados. Murrow reporta esto en el show a pesar de la oposición del número dos de la CBS, Sig Mickelson (JEFF DANIELS), quien teme que esto haría entrar al programa en aguas peligrosas.

Una poderosa figura del momento es el Senador Joseph McCarthy de Wisconsin, presidente del Comité de Actividades Antiamericanas. El Senador encabeza una singular cruzada para "limpiar" al país de comunistas. La implacable persecusión de todos aquellos sobre los que pesara su sospecha de tener conecciones con el partido comunista instaló una sensación de paranoia tan aguda que se filtró en la conciencia pública. Tal era el alcance de su poder que personas de los más variados espectros sociales se vieron forzadas a dejar sus trabajos y exiliarse, víctimas de sus acusaciones.

Murrow sospecha que podría hacer algo respecto del caso Radulovich y le preocupa que McCarthy esté distorsionando los hechos y que no tenga pruebas reales en su contra, erosionando así las libertades civiles. El programa sobre Radulovich sale al aire y responsabiliza, indirectamente, al Senador. Murrow es entonces acusado de ser un simpatizante comunista, con todo lo que esto implicaba.

El ataque sólo consigue poner al equipo de noticias en acción y, luego de una reunión con uno de los jefes de la CBS, William Paley (FRANK LANGELLA), Murrow decide responder al fuego con más fuego y denunciar todas las inadecuaciones y mentiras perpretadas por McCarthy.
Él está solo ahora y es mucho lo que está en juego: está poniendo en riesgo al programa y a los que trabajan en él. Deberá estar en lo cierto en un ciento por cien cada vez y será de vital importancia que todo su equipo esté completamente limpio de cualquier conección con el comunismo.

Tanto el programa sobre McCarthy como la editorial de Murrow es, de principio a fin, nada menos que brillante. Irá iluminando las serias cuestiones implicadas en el comportamiento de McCarthy: a saber, la linea que separa investigación de persecución, que disentir no es ser desleal, acusaciones no son pruebas, la condena depende de la evidencia y del proceso judicial, y, finalmente, como defensor de la libertad, los Estados Unidos no desampararán su propio hogar. McCarthy es presentado a través de sus propias palabras, que parecen ejemplificar cada uno de los puntos expuestos por Murrow. El programa es calificado por la crítica como una obra maestra del alto periodismo comprometido, cosa poco frecuente en la televisión.


Los hechos se suceden vertiginosamente.

Murrow invita a McCarthy al programa para responder. El Senador está de acuerdo pero exige no salir en vivo y tiempo para prepararse. Finalmente, sale al aire, y predeciblemente, continúa acusando a Murrow de comunista sin pruebas. Murrow consigue desprestigiar su figura usando sus propias palabras y el programa logra mostrar a la audiencia las tácticas perversas del Senador. El Senado comienza a tomar medidas contra el Senador y, finalmente, vota su dimisión como presidente del Comité.
A pesar del logro de Murrow y su departamento de noticias, el programa es removido de su horario y emitido los domingos.
Sólo cinco episodios más serán emitidos.

Aún así, el legado de Murrow es haber abierto el camino para el periodismo de investigación. Un periodismo que, a lo largo de las siguientes décadas y bajo su influencia, irá denunciando segregación, explotación y apartheid.




Sobre el elenco

DAVID STRATHAIRN (Edward R. Murrow)
Strathairn asistió al Williams College antes de ser lanzado a la fama gracias a sus apariciones en films de su compañero de estudios John Sayles, tales como "Matewan," "Eight Men Out," y "Passion Fish."
Trabajó también con algunos de los directores más importantes de la industria, tales como Mike Nichols ("Silkwood"), Stephen Gyllenhaal ("Losing Isaiah"), Sydney Pollack ("The Firm"), Tim Robbins ("Bob Roberts"), Penny Marshall ("A League of Their Own"), Taylor Hackford ("Dolores Claiborne"), Curtis Hanson ("LA Confidential") y Philip Kaufman ("Twisted").

Trabajó con Meryl Streep en "The River Wild," Richard Dreyfuss en "Lost In Yonkers," Jessica Lange en "Losing Isaiah," Ray Liotta y Jamie Lee Curtis en "Dominick and Eugene," Sean Penn y Christopher Walken en "At Close Range," Debra Winger en "A Dangerous Woman," Ashley Judd y Oliver Platt en "Simon Birch," Sigourney Weaver y Julianne Moore en "A Map of the World." Apareció también en "Blue Car," participante del 2002 Sundance festival, y filmó "Harrison's Flowers," junto a Andie Macdowell.

Sus trabajos sobre el escenario incluyen "The Three Sisters" con Billy Crudup y Marcia Gay Harden, "Dance of Death" con Sir Ian McKellen y Helen Mirren y "Salome" con Al Pacino. Sus créditos televisivos incluyen los largometrajes de HBO "In the Gloaming" y "The James Brady Story," "The American Clock" para TNT.

ROBERT DOWNEY JR. (Joe Wershba)

Robert Downey Jr. se ha convertido en uno de los actores más respetados de su generación. Con una increible lista de créditos, ha logrado mantenerse a salvo y fresco, incluso después de tres décadas en la industria. En 1992, Downey recibió una nominación al Premio de la Academia y ganó el BAFTA (British Academy Award) a Mejor Actor por su actuación en "Chaplin."

Downey Jr. tiene numerosos largometrajes en su haber, los más tempranos incluyen "The Last Party," "Soapdish," "Air America," "Chances Are," "True Believer," "Johnny Be Good," "1969," "Less Than Zero," "The Pick-Up Artist," "Back to School," "Tuff Turf," "Weird Science," "Firstborn," and "Pound," en la que hizo su debut cinematográfico dirigido por Robert Downey, Sr.

En 1994 trabajó para Oliver Stone en "Natural Born Killers," (1994) con Woody Harrelson y Juliette Lewis. En 1997, Downey fue visto en el film de Robert Altman "The Gingerbread Man," con Kenneth Branagh; en "Hugo Pool," dirigida por su padre Robert Downey Sr., protagonizada por Sean Penn; y en la película de Mike Figgis "One Night Stand," protagonizada por Wesley Snipes y Nastassja Kinski.

Downey hizo su debut en televisión en 2001 integrando el elenco de la serie de Fox "Ally McBeal,". Por este papel, ganó un Globo de oro al Mejor Desempeño Actoral en Roles secundarios en Series así como también el Screen Actors Guild Award al Outstanding Performance by a Male in a Comedy Series. Además, Downey fue nominado al Emmy en la categoría Outstanding Supporting Actor in a Comedy Series.

En 2003 Downey fue visto en dos films bien diferentes: "The Singing Detective," una remake del popular éxito de la BBC con el mismo nombre y en un thriller de la Warner Bros: "Gothika" protagonizado por Halle Berry y Penelope Cruz. .

Downey acaba de finalizar su participación en "Kiss Kiss, Bang Bang", una comedia de acción dirigida por Shane Black y coprotagonizada por Val Kilmer y un drama futurista dirigido por Richard Linklater: "A Scanner Darkly," coprotagonizado por Keanu Reeves, Winona Ryder y Woody Harrelson.

PATRICIA CLARKSON (Shirley Wershba)

Clarkson asistió a la Fordham University en New York, donde se graduó summa cum laude en Teatro. Ganó su MFA en la prestigiosa Yale School of Drama, cuando apareció en "Electra," "Pacific Overtures," "Pericles," "La Ronde," "The Lower Depths" y "The Misanthrope".

Sus créditos teatrales incluyen "Maidens Prayer" (por la que recibió nominaciones al Outer Critics Circle y Drama Desk Award). Clarkson hizo su debut cinematográfico en 1987 en el film de Brian De Palma "The Untouchables." Otros de sus créditos incluyen: "Dogville," "Welcome to Collinwood," "The Pledge," "The Green Mile," "Joe Gould's Secret" y "Wendigo."

En 2003 Clarkson trabajó en dos películas que le valieron un gran reconocimiento. Fue nominada al Academy Award, Golden Globe, SAG Award, Broadcast Film Critics Award y al Independent Spirit Award por su papel en "Pieces of April." Su role en "The Station Agent" le valió una nominación al SAG Award como Mejor Actriz. La National Board of Review y la National Society of Film Critics la nombró Mejor Actriz de reparto por "Pieces of April" y "The Station Agent." En el 2003 Sundance Film Festival ganó el Premio del Jurado por Outstanding Performance en "Pieces of April," "The Station Agent" y "All the Real Girls."

Clarkson ganó un Emmy en 2002 por su rol en el aclamado drama de HBO "Six Feet Under." Ganó también el Premio a Mejor Actriz de reparto otorgado por el New York Film Critics Circle y la National Society of Film Critics por su actuación el la película de Todd Haynes "Far From Heaven." Esto le valió también una nominación de Chicago Film Critics.

Este año ha participado en dos producciones independientes, "The Dying Gaul" y "The Woods" y retornó a los escenarios con la obra de Tennessee Williams "A Streetcar Named Desire."

RAY WISE (Don Hollenbeck)

Wise se convirtió en una figura relevante como el padre de Laura Palmer, Leland, en la serie de culto "Twin Peaks" y con su reciente aparición en "West Wing." Hasta la fecha, trabajó en 85 películas y su papel como Yank Smith en "The Hairy Ape" le valió el reconocimiento de toda la crítica. En 1983 recibió un OBIE Award por su trabajo en "The Tooth of Crime".

Sus muchos créditos incluyen "Powder," protagonizada por Mary Steenburgen y Jeff Goldblum; la sátira política de Tim Robbins "Bob Roberts" , "Rising Sun", "The Journey of Natty Gann", "The Chase", "Robocop" , "Swamp Thing" , "Second Chances," "Twin Peaks," "Savannah" , "The Larry Sanders Show" ,"Fire in the Dark" , "The Taking of Flight 847" y "The Battle of Shaker Heights" junto a Shia LeBeouf. Wise actuó también en "Jeepers Creepers 2."

FRANK LANGELLA (William Paley)

Luego de sus estudios en Syracuse University, Langella integró el elenco del Lincoln Center. Sus actuaciones en teatro incluyen "The Old Glory" (1964), "Good Day" y "The White Devil" (ambos de 1965). Su debut en cine fue en 1970 con la película de Frank Perry "Diary of a Mad Housewife." Apareció luego en la película de Mel Brooks "The Twelve Chairs" ganando el Best Supporting Actor Award otorgado por la National Board of Review.

Ganó un Tony por su debut en Broadway con "Seascape" (1975) y una nominación al mismo premio por "Dracula" (1977). Hizo su debut como director en Broadway con "Passione" en 1980. Otros de sus trabajos memorables de la década del ochenta fueron "Amadeus" (1982), "Design for Living" (1984, junto a Jill Clayburgh) y "Hurlyburly".

Durante la década del noventa se lo vio en "Dave," "Doomsday Gun" y "Junior." Trabajó con Geena Davis en "Cutthroat Island," en el film de Ridley Scott "1492: The Conquest of Paradise," y encarnó a 'Quilty' en la remake de Adrian Lyne de "Lolita" (1997).

En 2005, Langella trabajó en la producción de George Clooney y Steven Soderbergh para HBO "Unscripted." Más tarde, fue visto en el rol de Perry White, el editor del Daily Planet, bajo la dirección de Bryan Singer en "Superman Returns."

JEFF DANIELS (Sig Mickelson)

Luego de asistir a la Central Michigan University, Daniels formó parte del elenco de Circle Repertory Company en New York y, muy temprano, trabajó en la obra de Corinne Jacker "My Life" junto a Christopher Reeve y William Hurt.

Fue su rol como Jed Jenkins en "Fifth of July" el que le valió sus primeros reconocimientos y una nominación al Drama Desk como Mejor Actor de reparto. En 1993 ganó un OBIE Award por "Johnny Got His Gun."

Daniels hizo su debut en el film de Milos Forman "Ragtime" y el éxito vino con su siguiente proyecto, "Terms of Endearment," como el marido de Debra Winger. Su siguiente trabajo fue en la película de Woody Allen "The Purple Rose of Cairo." Una lista de sus créditos incluye: "Heartburn" (1986), "Something Wild" (1986), "Radio Days" (1987), "Arachnophobia" (1990), "Speed" (1994), "Dumb & Dumber" (1994), "Pleasantville" (1998), Clint Eastwood's "Blood Work" (2002), "The Hours" (2002).

Sus créditos en televisión incluyen "The Caine Mutiny Court Martial" de Robert Altman, "The Crossing," "The Goodbye Girl" y "The Five People You Meet in Heaven."

Sus proyectos en el futuro incluyen "Every Word is True" (2005) con Sigourney Weaver, Gwyneth Paltrow y Sandra Bullock, y "The Squid and The Whale" (2005) con Laura Linney.


GEORGE CLOONEY (Director / Co-Writer / 'Fred Friendly')

Una de las caras más famosas del planeta, George Clooney ha sido aclamado como actor de tv y de cine, como productor y como guionista. Junto a Steven Soderbergh en la productora de cine y televisión Section Eight ha realizado "Oceans Twelve," "Oceans Eleven," "Confessions of a Dangerous Mind," "The Jacket," "Full Frontal" y "Welcome To Collinwood." Produjo también "Insomnia" y "Far From Heaven."

Clooney hizo su debut como director en 2002 con "Confessions of a Dangerous Mind" (Miramax), por la que ganó el Special Achievement in Film otorgado por la National Board of Review. Hizo trabajos también para televisión. Fue productor ejecutivo y dirigió cinco episodios de "Unscripted," un reality que debutará en HBO.

Clooney protagonizó los éxitos de taquilla "Ocean's Twelve" y "Ocean's Eleven." Trabajó para los hermanos Coen en "O Brother, Where Art Thou?" y ganó en 2000 el Golden Globe Award como Best Actor in a Motion Picture Musical or Comedy. Fue aclamado por la crítica en la premiada "Three Kings" y en la nominada al Oscar "Out of Sight." Sus créditos previos incluyen "The Peacemaker," "Batman & Robin," "One Fine Day," y "From Dusk Till Dawn."

Antes de trabajar en cine, Clooney actuó en diversas series de televisión pero quizás sea mejor conocido por sus cinco años de participación en la serie de la NBC "ER." Su rol como Dr. Douglas Ross le valió nominaciones al Golden Globe, al Screen Actors Guild, al People's Choice y al Emmy.

Section Eight producirá sus siguientes proyectos: "Syriana" y "Good Night. And, Good Luck."



TATE DONOVAN (Jessie Zousmer)

La primera aparición destacada de Donovan fue "Memphis Belle" (1990). Antes de eso, apareció en "Space Camp" (1986) y "Clean and Sober" (1988). Después de su protagónico en "Love Potion No. 9" (1992), participó de tres largometrajes independientes: "Inside Monkey Zetterland" (1992), "Ethan Frome" y el film de Alan Rudolph "Equinox" (ambos de 1993) y "Holy Matrimony" (1994). Trabajo para Disney en "Hercules" (1997).

Sus créditos en televisión incluyen "Vietnam War Story" (1988), "A Case of Deadly Force" (CBS, 1986) y la miniserie "Nutcracker: Money, Madness, Murder" (CBS, 1987). Apareció en 1997 en un memorable episodio de la serie de la NBC "Homicide: Life on the Street" e interpretó a un cliente habitual de Calista Flockhart en "Ally McBeal." Participó también de "Friends" y "Trinity".





Sobre la producción

STEVEN SODERBERGH (Productor ejecutivo)

Nacido en Atlanta, Soderbergh se formó en Baton Rouge, Louisiana y sus primeros trabajos incluyen "Rapid Eye Movement" y "Winston." Su primer trabajo importante vino cuando el grupo Yes, en 1986, le pidió que se hiciera cargo de la filmación de todos los conciertos de la gira.

Su primer proyecto cinematográfico fue "Sex, Lies and Videotape". El film obtuvo un doble triunfo en Cannes, ganando la Palma de Oro para él y el premio a Mejor Actor para James Spader. El film fue un éxito de taquilla que, nominado para el Oscar, estableció a Soderbergh como uno de los jóvenes más promisorios de su generación.

Sus siguientes films incluyen "Kafka" (1991), protagonizado por Jeremy Irons, "King of the Hill" (1993) y "The Underneath" (1995). Soderbergh retornó a Baton Rouge y realizó "Schizopolis" (1997). Más tarde hizo "Gray's Anatomy" (1997), "Out of Sight" (1998), protagonizada por George Clooney y Jennifer Lopez, "The Limey" (1999) con Terence Stamp y Peter Fonda en los roles principales, "Erin Brockovich" (2000) protagonizada por Julia Roberts, "Traffic" en 2000 (por la que recibió un Oscar), "Ocean's Eleven" (2001) con George Clooney, Julia Roberts, Brad Pitt y Matt Damon, la remake del clásico "Solaris" (2003) con George Clooney en el rol principal y "Ocean's Twelve" (2004).

La productora de Soderbergh y Clooney ha desarrollado también series de televisión tales como "K Street" (HBO, 2003) y "Unscripted" (HBO, 2005) .


ROBERT ELSWIT (Director de Fotografía)

Elswit es un veterano cineasta con dos décadas de experiencia.Trabajó con Curtis Hanson en "The River Wild," "The Hand That Rocks The Cradle" y "Bad Influence"; Paul Thomas Anderson en "Punch Drunk Love," "Magnolia," "Boogie Nights" y "Hard Eight"; Stephen Gyllenhaal en "A Dangerous Woman," "Waterland," "Paris Trout" y "Killing in a Small Town."

Otros de sus créditos incluyen "Runaway Jury," con Gene Hackman y Dustin Hoffman, "Heist" de David Mamet, "8mm" con Nicolas Cage y "Tomorrow Never Dies" de la saga de James Bond.

"The Pallbearer," "Boys," Mike Newell's "Amazing Grace and Chuck," Rob Reiner's "The Sure Thing," y "Desert Heart" son algunos de sus otros trabajos.

Sus próximos proyectos incluyen "Syriana," protagonizada por George Clooney y Matt Damon.



LOUISE FROGLEY (Vestuario)

Frogley comenzó su carrera trabajando en Londres y París como diseñador de vestuario y escenógrafo para varios comerciales de diversas compañías, incluyendo RSA.


Trabajó también, entre otros, junto a los hermanos Ridley y Tony Scott, Hugh Hudson y Adrian Lyne.

Su primer trabajo en cine vino en 1981 como asistente de vestuario en la premiada por la Academia "Chariots of Fire." A partir de allí, ha vestido a más de veinte films, entre ellos, a "Mona Lisa," "Bull Durham," "Breaking In," "Three Men and a Little Lady," "Warlock," "Wilder Napalm," "The Cure," "War of the Buttons," "U.S. Marshals" y "Executive Decision,"

Luego de su trabajo para Steven Soderbergh en "Traffic," en 2000, Frogley regresó a su nativa Inglaterra, para trabajar con Tony Scott en "Spy Game," con Robert Redford y Brad Pitt y en "Man on Fire," protagonizada por Denzel Washington. El año pasado trabajó en "Constantine," con Keanu Reeves.

Otros proyectos incluyen "Skeleton key," con Kate Hudson y "Syriana," con George Clooney y Matt Damon.